By Rashad Hawkins
"Fall in your ways, so you can crumble, fall in your ways, so you can sleep at night, fall in your ways, so you can wake up and rise."-Rise
Unless you've been living under a rock, you should know by now that Solange Knowles is nothing like her sister Beyonce when it comes to music. Whether it be with acting roles, or album's like 2008's Sol-Angel and the Hadley St. Dreams, or EP's like 2012's True, she has never had a problem with showcasing her individuality while at the same time presenting her maturation as an artist. Fast forward to 2016, where racial atrocities are still geared heavily toward black people, Solange unleashes a different and yet appreciated style from her repertoire with A Seat at the Table.
"I ran into this girl, she said, "Why you always blaming? "Why you can't just face it?" (Be mad, be mad, be mad) "Why you always gotta be so mad?" (Be mad, be mad, be mad)"Why you always talking shit, always be complaining? "Why you always gotta be, why you always gotta be so mad?" (Be mad, be mad, be mad)
I got a lot to be mad about (Be mad, be mad, be mad)"-Mad
    A Seat at the Table alternates easily between the Pop and Soul music genres. Solange's harmonies mixed with Raphael Siddiq's production create an intoxicating and addictive cocktail. Moving back to the topics of harmony, it's very apparent that Solange can collaborate with just about anyone and create a cohesive effort. From Lil' Wayne on "Mad" whose verse is essentially a reminder of his mind state during his stay in prison. Sampha on "Don't Touch My Hair" to The Dream and BJ the Chicago Kid on "F.U.B.U" to even Q-Tip on "Borderline (An Ode to Self Care)" This girl definitely has an ear for voices that can blend with hers on a track.
This album is ultimately a 51 minute sonic representation of black womanhood. Solange vocalizes thoughts, joys, and pains nearly every black woman has experienced in their lifetime. From the interludes with her parents and Master-P to the track "Don't Wish Me Well" you hear jewels that you wouldn't expect to hear out of nowhere. On the tracks "Weary" and "Rise"  Solange acknowledges her exhaustion due to the ways of the world, and while embracing her miseries, Solange finds a way to still persevere and prosper.  While she heals her spirit through song, she helps her listeners heal theirs as well.
"Don't touch my hair When it's the feelings I wear don't touch my soul When it's the rhythm I know don't touch my crown they say the vision I've found don't touch what's there When it's the feelings I wear." – Don't Touch My Hair
Run These Tracks: Don't Touch My Hair, Rise, Don't Wish Me Well, F.U.B.U., Mad, Don't You Wait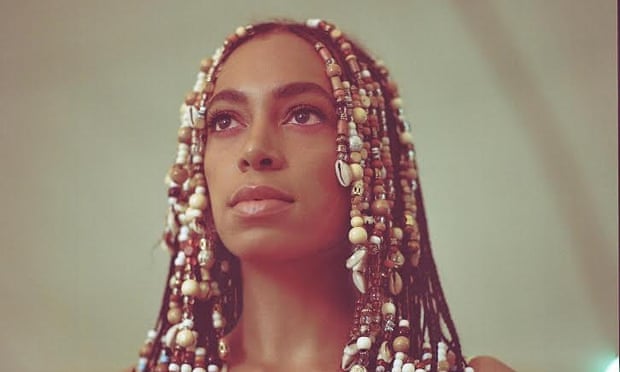 Related posts:
Related Posts via Categories